OS BIG Editor

is an open source .BIG file browser and, soon to be able to create and edit .BIG files as well. The .BIG files are packages of files used on games made by Electronic Arts Los Angeles, like Command & Conquer Renegade, Command & Conquer: Generals, Lord of the Rings: Battle For Middle Earth I, Lord of the Rings: Battle For Middle Earth II and Command & Conquer 3: Tiberium Wars.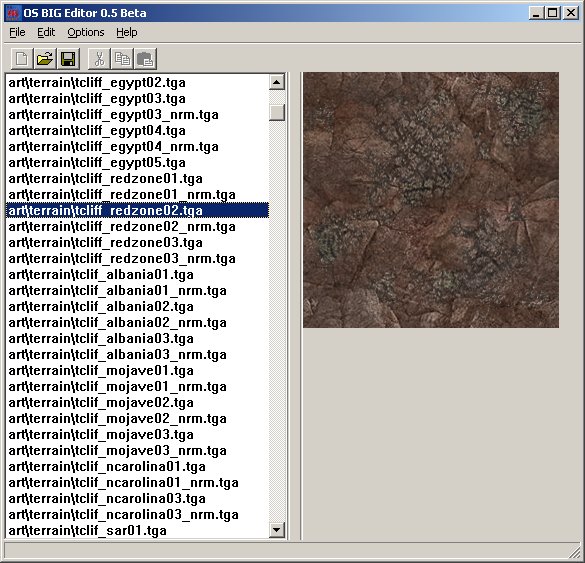 OS BIG Editor

is a freeware, ad-free and it has the following features:


-> Browse .BIG files from Renegade, Generals, Battle For Middle Earth I and II and Command and Conquer 3, including the compressed files inside them.
-> A quick and friendly interface that allows the user to quick extract the files, including through drag and dropping them to Windows Explorer.
-> Preview all TGA and text files without extracting them.
-> Associate your .big files with the program to open them straight from the Windows Explorer.
-> Online support and help at Project Perfect Mod Forums.


This program counts the (direct or indirect) contributions from Jonwil (Refpack decompression code), Danny van Loon (Drag and Drop support), Zlatko Minev (TGA Viewer) and Davie Reed (TGA support).



The latest version can be downloaded in the link below:

-> Download OS BIG Editor 0.5 Beta (607kb)
-> Get OS BIG Editor 0.58 Alpha (Saves .BIG, .MEG files, and much more features, however, it's not finished)





This tool is a freeware, but if you enjoy it and want to motivate and contribute with its development, feel free to donate money with paypal, credit cards and bank transfer by clicking in the button below:







Make sure you mention your forum nickname. This is crucial. And also, one feature that you'd need. You'll receive a response and if that feature is not viable, you can request another one.